What can shoppers get for $1 to $5? An experience that's happy, attractive and digital. These are the words that describe today's dollar chains, and their creative value-priced sister chains. Our latest Retail Safari® explores several of the latest efforts by this burgeoning sector, from Dollar General to Five Below.

It's Not About the Dollars, It's About the Experience
Where are your "regular" shoppers going when they're not coming to you? In late 2021, before prices on virtually everything began to surge, at least half of all shoppers told us they were regularly in "dollar" stores. Now, that figure is higher, according to our recent "Struggling Shoppers" report:
Two-thirds of all shoppers have shopped the various dollar chains over the past three months.
More than 40% of shoppers who are struggling now shop more at these chains.
But it's not just struggling shoppers. Half of all households that earn $150,000 or more a year now shop dollar chains, as well.
Our hunch was that new dollar-chain shoppers initially explored the stores to save a few bucks, but came away feeling better than they expected. So we sent our Retail Safari® scouts to several dollar chains, as well as "dollar-near" value-based chains, to see what's new.
And our hunch was correct. The dollar chains have stretched their offerings to meet the expectations of shoppers who, yes, want to save money, but also want to be in a "happy" store; one that provides surprises as well as advanced digital tools for faster shopping.
5 Ways the Dollar Chains are Standing Apart
Here are a few ways we've found that dollar chains have broken out from the same old presentations.
Making digital tools must-haves for shoppers. Apps and mobile shopping features are being integrated into the dollar chain value equation in ways that encourage deeper shopper engagement. Dollar General is, for example, extending the capabilities of its DG app to include digital coupons. In-store endcaps encourage shoppers to download the app for special offers. At every checkout an employee reminds shoppers to download the app for added savings.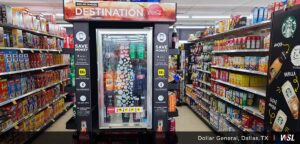 Adapting to on-the-go lifestyles. Dollar stores are redesigning their formats to be fast and easy, accommodating the needs of their widening shopper base. Dollar General has added DG pick-up areas for online orders – a service we equate with grocery and mass retail. DGX, a smaller, urban concept by Dollar General, includes grab-and-go beverage and snack stations. And Popshelf, Dollar General's expanding under-$5 concept, uses only self- checkout stations.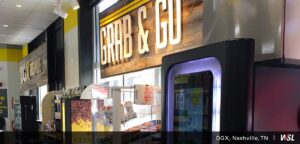 Adding surprise to their assortments. Broader shopper bases carry broader preferences, and the dollar chains are meeting them, affordably. Dollar General has added fresh produce, healthier snack options, dental supplies and sun care. Popshelf's displays of home, craft and seasonal decor bring Target to mind. And Five Below has installed a rotating display of seasonal and trend items, aptly called "New & Now," ensuring we see something different with each visit.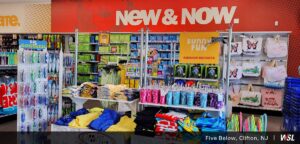 Removing clutter, bringing in light. No more cramped, crowded aisles. Both Popshelf and Five Below have spacious floorplans that are lively and include natural light. Both chains have low, organized displays that enable shoppers to take in the sweep of the store. Bold signage further encourages easy browsing and exploration.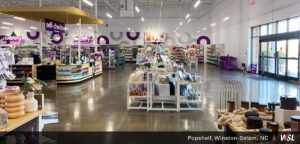 Building personality by using the customers' voice. Magnetism had been a rarity in dollar chains but Five Below and Popshelf each strive for it by incorporating youthful, upbeat language and striking signage into their low-priced models ("Coolest Store Ever," declares a Five Below sign). DGX's Nashville location shows it's a true neighborhood store, with local brands and a welcome sign that shouts "DGX Nashville."

Dollar Chains are Entering a Golden Age
The dollar chains seem perfectly poised to provide what today's shoppers, particularly young shoppers, want. They are proving that a low-cost alternative does not require lowered expectations.
Indeed, we suspect the majority of shoppers who regularly visit dollar stores now leave the stores feeling better than when they arrived. Can all grocery chains say that? Department stores? Mass merchandisers? Look at what our Retail Safari® scouts saw, and see how far a dollar can go.
WSL's Retail Safari scouts are poised to prowl new concepts and compare in-store innovations. If you'd like information on a customized Retail Safari® or learn what programs could address your retail or brand challenges, contact us. Subscribers can access our latest Retail Safari® "The New Age of Dollar Channel Retail" here.