What "dollar stores"? All the big dollar chains have evolved into competitively priced retailers, blurring the once well-defined lines within the value sector. We culled through our How America Shops® research to learn what percentage of consumers choose dollar chains over Walmart and how the new low-priced chains are giving dollar stores a run for their shoppers.
Shoppers Aren't Chasing the 'Dollar.' They're Chasing Value
Nothing in the dollar store is a dollar, anymore. Most of these chains are more accurately defined as "low-price retailers," with goods ranging from $1.25 (Dollar Tree, since 2021) to more than $5. But will adding more "premium pricing" work in the long term for the dollar chains?
In some ways, the timing is spot-on. During the pandemic, more shoppers sought out their low-priced options to stretch the dollar. Then, dramatically rising prices kept them at these stores, and caused consumers of higher income levels to explore them, as well.
In our 2022 How America Shops® consumer survey, one-quarter of consumers said they had changed where they shopped in search of lower prices[1].

We Compared Prices Ourselves
We sent our Retail Safari® scouts out to check prices on national name brands in the stores of three value chains in the New York Metropolitan area: Walmart, Dollar General and the new regional chain, Lidl[2]. Overall, dollar chains are not the clear winner, which surprised us. If consumers want to save, they'll have to shop in several chains.
Here are just a few examples of what our scouts found.

Everyone is a Value Shopper
Discount retailers are attracting shoppers with average household incomes under $50,000 as well as those with incomes over $150,000. Walmart captures both high- and low-income shoppers in three months, the dollar chains skew towards lower income, but a glimpse of the future is how Aldi and Lidl are attracting as many low-income as high-income shoppers.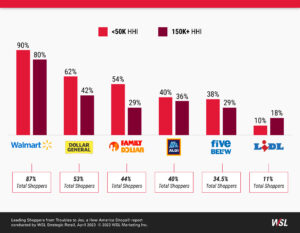 How to Put a Real Price on Low Price
Look, consumers often want to be frugal, but sometimes they want to feel like they can enjoy a splurge. Retailers and brands can help them do both. Here are a few loyalty-building tips:
Lower product prices and show it. While a lot of rising prices have held steady, we noticed some retailers are bringing some prices down to pre-inflation numbers. These reduced prices should be marked with messaging that states something along the lines of "priced for you" or "throw-back 2020 pricing!" The effort could surprise shoppers who thought their retailers didn't care.
Remember, convenience saves time and is calculated into price. While 49% of shoppers are cutting back to cover their basic bills, they're still paying for convenience, including home delivery and shopping stores that are easy

[3]

. Convenience is embedded in our culture, and calculated into the cost of a trip. Brands and retailers should use "easy shopping" as a competitive edge.
Follow the shopper across the blur. Prices change, so how can retailers and brands surprise the 91% of shoppers who believe prices will not come down? Refer to tip No.1 and make some noise when prices hold or are reduced. Shout the best prices to break through the clutter. In short, shoppers go to low-price chains, including dollar stores, with certain expectations regarding price as well as ease. And they return if those expectations are met, or exceeded.
Low-price retailers – but really, all retailers – must find that sweet spot in price. If a retailer or brand is not promoting low prices, then how can it deliver easy shopping to show it cares about its shoppers' other values, like saving time and reducing stress?
WSL's Retail Safari® scouts explore innovations in retail and brands across the globe. And they can curate a tour specifically for your retail and branding needs. To follow the paths of our scouts, and to see what they can do for you, visit our "Retail Innovators" page.