If retailers and brands want to keep the lucrative, tech-raised shoppers of Gen Z, they need to come all the way to them. Due to technological imprinting, Gen Z's innate expectations as shoppers far exceed those of other generations, and it presents new challenges, our How America Shops® research shows. So, here are the opportunities. 
You Want Gen Z's Loyalty? Then Do the Work
Shoppers who are 16 to 24 are tech-fluent, brand-scrupulous and product origin-aware – and they are not taking extra steps to acquire what suits their terms. Retailers and brands that want Gen Z's loyalty will have to do the legwork for them and meet them where they are.
It's not because this generation is lazy. It's merely a matter of conditioning: Gen Z never had to do much work to find what fits their values because the resources were always right there, in the palms of their hands. This young group of shoppers had the world at their fingertips from the moment they could form their own choices, and far sooner than any generation before them.
Now that those choices have turned into nearly $150 billion in annual spending (expected to reach $2 trillion by 2030), we extracted Gen Z's responses to our How America Shops® research, and pulled together a cohesive picture of how this generation thinks, and acts.
Some Stand-Out Sentiments of Gen Z Shoppers:
Conscious consumerism requires convenience. Gen Zers are "very committed" to doing their part to create a healthier world, but only if it's convenient – by 12 percentage points more than Millennials.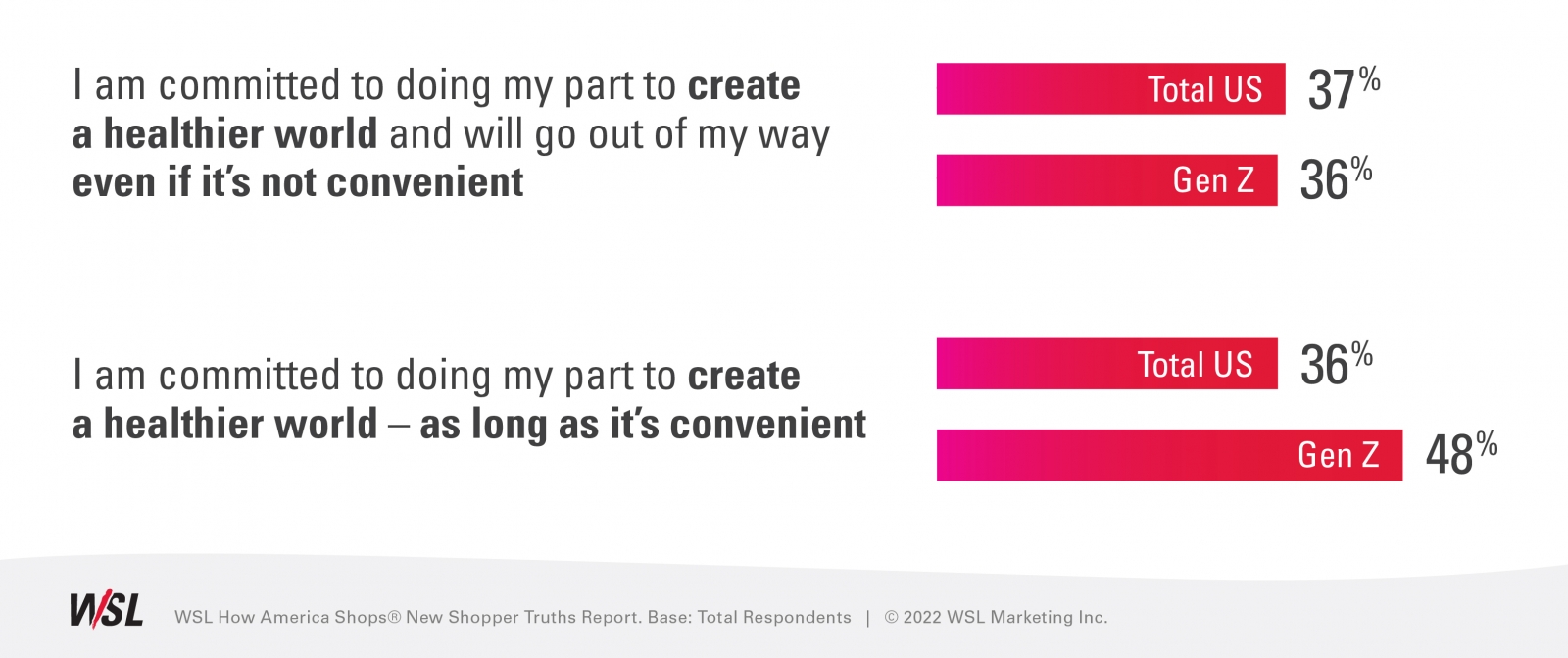 Gen Z shoppers are more apt to expect easy-access information about product ingredients – 8 percentage points more than the total population. 
More than half said they shop directly from a brand's website, not even bothering to search a retailer – that's 7 percentage points more than the total population.
Gen Z are more likely to shop social media sites than the general population, by 11 percentage points. They also rely more heavily on social media ads to learn about new things.
More Gen Z shoppers are likely to use subscriptions to replenish goods – 10 percentage points more.
You Want Gen Z? Here's How to Grab Them
Not surprisingly, our research shows Gen Z shoppers also prefer same-day delivery, transparency regarding employment practices and contactless payment options. This all simply reflects their tech-nurtured upbringing.
Now, Here are the Gen Z Opportunities.
Make the trip a splurge. 28% of Gen Z shoppers told us they are inclined to treat themselves to big splurges – more than any other age group and 10 percentage points more than average.
Bring in the experts, and give them the spotlight. While Gen Z relies on social media ads and influencers, they are much more likely (by 13 percentage points) to turn to professionals for information.
Tempt them with quick-trip, "Oooh!" items just inside the door. When making their in-store pickups, 9 percentage points more of Gen Zers are likely to stay and browse for additional items.
Polish your brand image. Gen Z shoppers are less likely to trust the safety of any brand – national, small or private label. Less than half believe brands are safe, across the board, with the least amount of confidence in private label.
Members of Gen Z will pay for a good shopping experience but they do not expect to work for it. They inherently know the shortcuts to product research, and to the most direct path to purchase. Never underestimate their knowledge, and confidence.
Do your legwork, and you will inherit the wealth from Gen Z.
WSL is always on the prowl for the research that will elevate all brands and retailers in 2022 and beyond. If there is a shopper category you want to know more about, let us know! To read our latest How America Shops® report, "My Random Shopping Life," visit our dedicated report page here.