Retailers are barreling into the height of holiday shopping season, and many are following a new playbook, from Black Fridays that jump the gun to secret sales for reward members. Retailers and brands are following the shoppers wherever they want to go, and getting good at the game.
This Holiday Season, Retailers Follow Shoppers, Not Rules!
Time-starved, price-conscious shoppers are working harder to get their holiday deals this season, and retailers are doing their level best to be everywhere shoppers want them to be.
The evidence is all about us, as retailers and brands compete with the calendar, as well as each other. Walmart, Target, Macy's, Kohl's, Amazon – among many others – have all launched early online deals to jump-start the holiday season.
In our October How America Shops® release, "Shoppers' Set Spending Plans for Holidays: Spend Less. Shop Smarter. Shop Early," we predicted shoppers would shop early, work harder to get good prices and wrestle with getting less for their money.
Here's part of the reason why: 90% of shoppers believe inflationary prices are here to stay. So they will be looking for sales and coupons to save this holiday season, and retailers are not disappointing.
So, Are Shoppers Responding to Retailer Encouragement?
These early promotional retail strategies appear to have contributed to the 1.3% increase in retail sales from October to November. Yet shoppers are still being choosey – Target's profits suffered, for example, due to a slowdown in discretionary spending. As WSL CEO Wendy Liebmann recently told NPR's Marketplace: It's not that shoppers don't want to shop Target; it's that they sometimes spend too much when they do. Target has been especially aggressive with daily deals and special prices online.
Here's what our shopper surveys predicted.
A good share of households with kids – 27% of them – will be holding back on spending for Christmas, Hanukkah and Kwanzaa, but they also don't want to disappoint, so here's how they will shop to get the most for their money: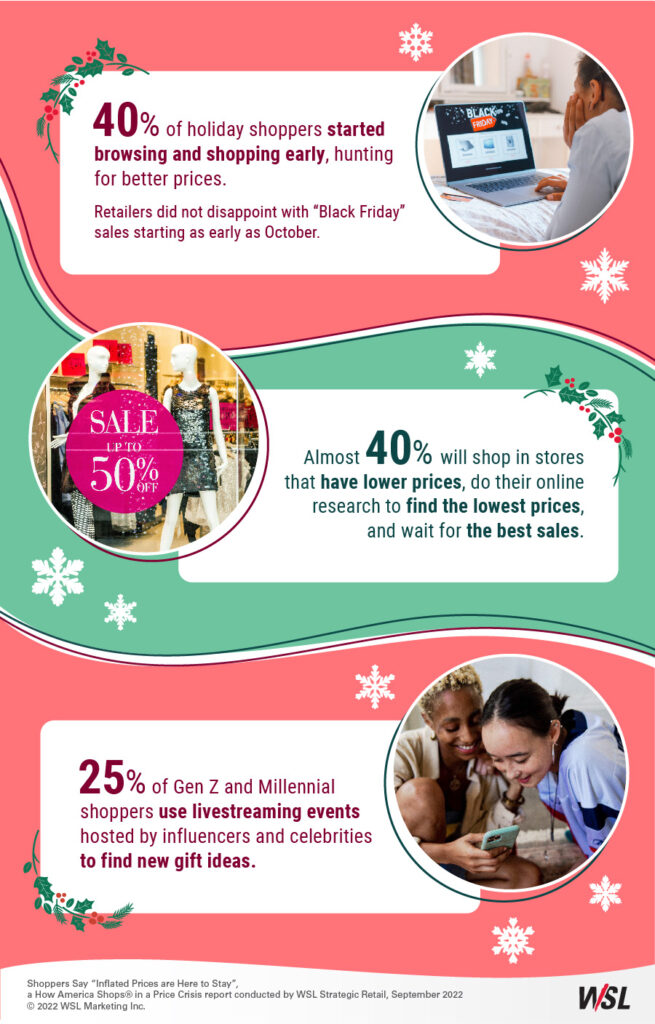 3 Retail Rules for the Holiday Season That Has no Rules
Based on our shopper insights, we suggest three new rules that retailers and brands should follow for a season that has no rules.
More shoppers will buy direct via livestream and social media, which is upending traditional holiday approaches for retailers and brands. Case in point: On Nov. 10, YouTube kicked off a nine-day holiday shopping event, "From YouTube to You," hosted by popular influencers. Participating brands included Ulta Beauty, Popflex and Tula Skincare. And shoppers are staying online for other deals, which is why many retailers are extending their Cyber Mondays into Cyber Weeks.
Shoppers will shop early if retailers promote early. Beginning in October, retailers broke their traditional holiday "countdown" rules and replaced them with new shopper strategies. Walmart in early November launched its weekly online-only deals that drop every Monday. Target, too, began running Black Friday deals weeks before Black Friday. Walgreens loaded a pre-Black Friday website dedicated to holiday gift suggestions, with "Gift of the Week" deals. And Old Navy in October launched its "Sorry, Not Sorry" campaign to "unapologetically celebrate the holidays.
Shoppers become "members" for special treatment. Value comes in forms other than savings, and big among those forms is the sense of privilege. Members of Walmart+ get a seven-hour head start on its weekly Monday deals. Amazon in October unveiled its Prime Early Access Sale, a two-day shopping event for Prime members only. And Best Buy also rolled out Black Friday-type deals in October with "Member Mondays" events hosted almost every week through December. As the holidays get near, these privileges will count for more, and could reinforce loyalty in 2023.
But Will Early Starts Result In Longer Seasons?
New early-and-everywhere promotions are being designed to condition shoppers to stay with their favorite retailers throughout the holiday shopping season. So far shoppers are motivated by deep discounts and they are willing to work hard for them.
Working harder includes working across all channels, including new ones. Shoppers are writing the rules as they go, as they always have. and they will throughout 2023. Faced with the prospect of long-term higher prices, they have no choice but to make adjustments in how and where they shop.
Wondering where your shoppers will spend their post-holiday dollars? The insights we gather today will tell you. Visit our Shoppers Insights page to see how shoppers are forcing retailers to break the rules.