Many of the world's biggest retailers and consumer brands use retail consulting services to drive their shopper-centric strategies. Whether to optimize the customer experience through focused workshops, develop new strategies or adapt to the changing retail industry, brands across channels and subsectors can benefit from retail consulting. When you work with a retail consultant, you can access in-depth research, long-term planning strategies, the perspective of outside experts and plans you can act on now. Learn how WSL Strategic Retail provides all this and more and how our services can help your brand grow.
Retail Consulting Services
Top retail consultants, like the team at WSL, help your team unlock its creativity and pack a bigger punch with your retail marketing. Your consultant will customize their approach to your unique challenges with services such as:
Shopper insights: Our How America Shops® reports, combined with global shopper research, deliver regular doses of proprietary research to help you drive decisions. We help you identify new demographics and understand your best shoppers' lifestyles, wants, needs and values.
Expert speaker presentations and webinars: We supply world-class retail advisory services based on more than 30 years of research and trend analysis. Our team knows your category and can deliver provocative insights and a stimulating discussion of where your shoppers and retail at large are headed. Our speakers also pepper in trends and research from across the retail and consumer brands industry that your team can learn from. Our presentations are bold and willing to speak truth to power. We'll challenge the norms in favor of the now, using our research and experience to tell you what will work for your customers.
Guided workshops: From our innovative Retail Safari® to simulate the in-store customer experience to our entire range of fast-paced retail workshops, we get your leadership team out of their natural habitats and thinking in new ways. By simulating the shopper experience and picking out big, bold ideas, we help your team build on your observations, strategize and arrive at actionable takeaways to help you cater to your shoppers.
Retail Strategy Consulting
While brands like yours seek retail consulting for many reasons, one of the biggest outcomes is enhanced strategic direction. Leaders and decision-makers like you need detailed insights to anticipate changes in retail's competitive landscape, identify opportunities and hammer out long-term strategies. Our retail consultants who specialize in strategic solutions can help you:
Grow Within Your Category
Expanding into a new category or gaining market share in your established categories starts with detailed shopper insights. You need to understand shoppers' attitudes towards products in your category and where they want to buy them. Then you can assess new marketing opportunities and retail partnerships to jumpstart your expansion. WSL helps by conducting qualitative and quantitative How America Shops® research and developing detailed roadmaps for growth.
Go Omnichannel
Omnichannel retail is no longer an option — it's a must. With omnichannel strategies driving 80% higher rates of incremental store visits, it's both a shopper expectation and the key to long-term retail success. Whether your brand already uses omnichannel marketing and sales strategies, the omnichannel landscape continues to evolve. Your team needs to understand how your shoppers use the internet, how they shop in physical stores and how those activities intersect. WSL can conduct investigative research to uncover these behavioral insights and identify new sales channels for your products.
Partner With the Best
Your retailers — and even some of your competitors — are your strongest allies and best sources for insights. WSL can both identify new strategic partnerships and strengthen your existing ones. We do this in part by leveraging our own long-standing relationships to conduct one-on-one interviews with senior and mid-level leadership at top retailers. We combine this qualitative analysis with hard numbers to develop action plans for your team. Here, the key outcome is improved approval ratings from your existing retail partners and new opportunities for mutually beneficial partnerships.
Plan for Anything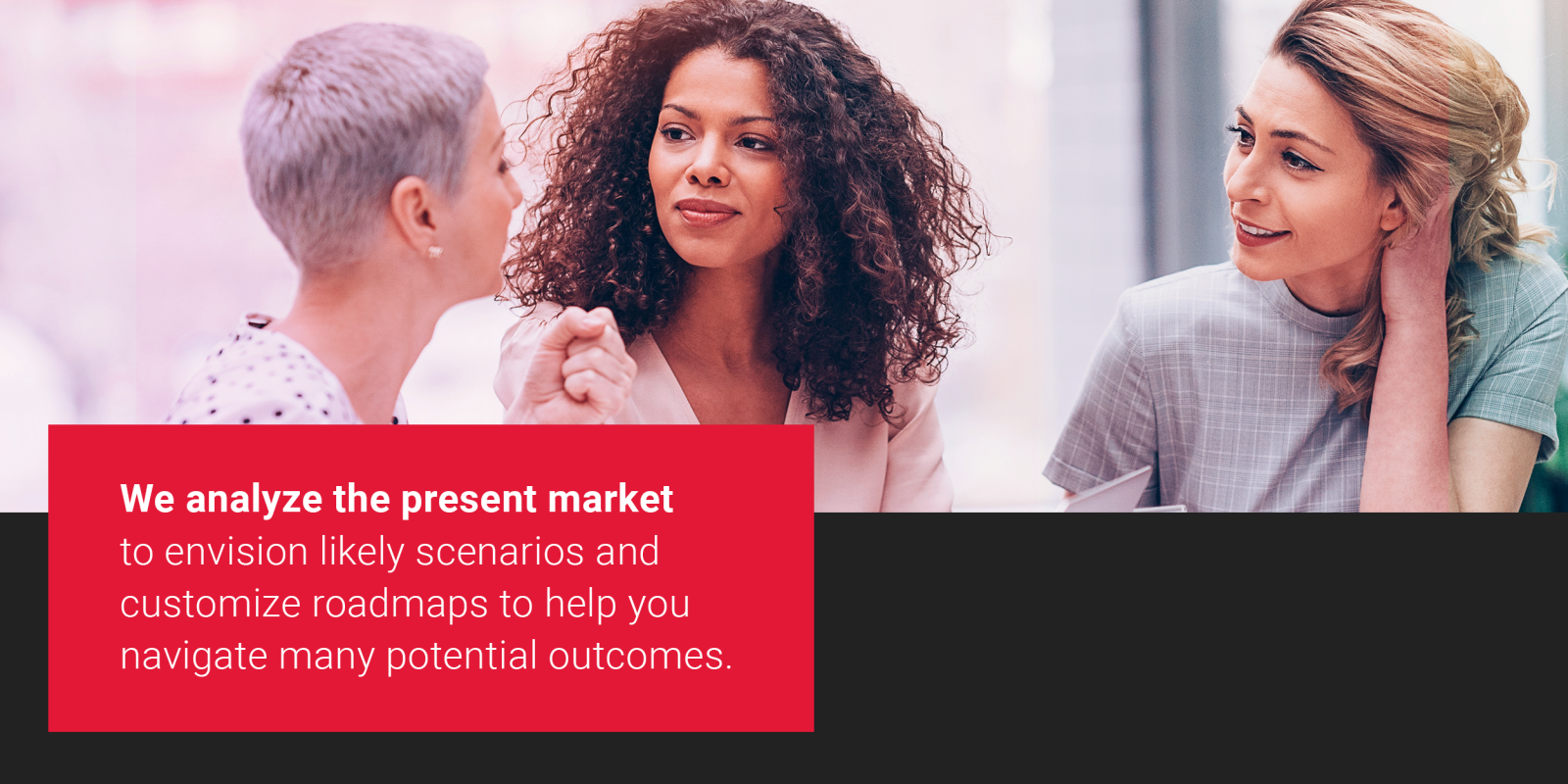 What would your brand do today if it knew how tomorrow would unfold? Retail is constantly changing, and top consumer brands need to anticipate all the minute and sweeping shifts in the competitive landscape that may impact their success. At WSL, we practically deliver the future with comprehensive scenario planning alongside our well-regarded shopper and retail insights. We analyze the present market to envision likely scenarios and customize roadmaps to help you navigate many potential outcomes.
The result is a detailed framework that helps your brand design short-term and long-term strategies. Check out where shoppers are headed in 2022-2024, or reach out to our team for more detailed predictions tailored to your industry and brand.
We Help Brands Anticipate Their Shoppers' Needs
As your go-to retail business consulting firm, we at WSL have a not-so-secret recipe to help you conquer retail. While we customize everything to you, your brand and your shoppers, we start with this three-step approach to our retail consulting services:
1. Deliver Proprietary Shopper Insights
At WSL, we believe everything starts with sound data. We take fact-finding and data-mining to the next level by designing qualitative and quantitative research studies to understand who your shoppers are and what they want. Then we deliver exclusive How America Shops® reports with insights especially for your target shopper segments and product categories.
You'll gain unparalleled insights into your customers' needs, lifestyles, attitudes, shopping behaviors and more. We can also identify new shopper segments for your brand to target and valuable data to help you do it.
2. Loop in Expert Retailers
Retailers are an indispensable resource, which is why we constantly build new bridges and foster deep connections with U.S. and global retailers. We regularly interview retail leaders to get a detailed understanding of what they want from their partners and which strategies see the most success in the retail space. By synthesizing insights from across many channels, we can provide new perspectives from within and outside your existing networks.
Meanwhile, by regularly engaging and nurturing trust with top retailers, we also help you strengthen strategic ties and forge new connections in your industry. We can leverage our industry relationships to help you gain buy-in for your boldest out-of-the-box strategies.
3. Activate Your Strategy
Your newfound strategic direction deserves top-notch execution. Our strategic retail consultants go beyond helping you shape your overarching vision. We complement this service with detailed roadmaps and action plans, so you can bring your plans to fruition. We provide the tools and expertise you need to activate your strategies and align your entire organization to pursue these goals.  We also act fast, so you can put your newfound data into action while it's still fresh.
Case Studies
We help some of the biggest consumer brands defend their top spots and reach new heights in the competitive retail landscape. Here's how we do it — and leave our clients smiling every time.
L'Oréal plans for long-term growth: Our success story with L'Oréal shows how engaging an entire organization in scenario planning and strategic development can position a brand for long-term growth. Combining a cross-functional process with shopper insights and industry interviews with strategic planning, we developed roadmaps this global beauty giant continues to follow today.
Procter & Gamble adapts to how shoppers use mobile technology: We helped consumer packaged goods giant Procter & Gamble understand and develop new opportunities for retail technology through immersive workshops tailored to specific teams within the company. We presented the latest How America Shops® trends and insights and followed up with a guided Retail Safari® to help the company quickly develop new tech-forward omnichannel strategies.
Disney grows in strategic product categories: Walt Disney Parks & Resorts has branded products across many categories and targets "guests" across many segments. We used our proprietary research processes to help Disney test-drive new product strategies, including new product ranges, pricing, promotions and merchandising. We also helped the brand find partners to create new products and execute related strategies.
Let WSL Help You Develop a Plan and Take Action
Some of the world's largest retailers and consumer brands trust our leading retail consulting services. We can help you take your company in a bold new direction. We give you the data and expertise to find your new path and the tools to get you to your destination and enjoy the ride, too.
To hear from our experienced team for yourself — and get some of our bona fide insights, free of charge — check out the Future Shop podcast. You'll hear from our fearless leader and driver of shopper-centric strategy, Wendy Liebmann, CEO & Chief Shopper. She chats with some of the most innovative, future-focused names in retail — leaders from Unilever, CVS Health, Maybelline New York and others from across the industry. Listen to forward-thinkers on the future of retail leadership, the myths and realities of modern retail, reimagining industry relationships and more.
You can also read more about our shopper-centric research on our Shopper Trends blog. Hear from the WSL team as they wear their shopper hats and comment on some of their favorite shopping experiences. Or, take a deep dive into Gen Z and the stores and categories they shop most. Whatever your team needs to learn, our blog provides a preview of the future — and of our proprietary How America Shops® reports —  that you can't afford to miss.
If you're ready to discover and stress-test solutions to your brand's unique challenges, give us a call at 212-924-7780 or send us a note online. You can also stay in the know by signing up for our Trend Alert newsletter in the box below.