Our latest How America Shops® research shows a significant gain in the share of shoppers cutting back on spending, but more surprising is how many expect prices to stay high, even if inflation recedes. Shoppers know the cost of operating stores and transporting goods has gone up, as well as (and especially) employee pay. Has demand for employee fairness contributed to this "Big Price Correction"? 
There May Be More to Surging Prices Than Inflation
In addition to inflation, a commitment to employee fairness and competition to attract workers with higher wages might also explain why bananas cost 89 cents a pound.
The big news from our findings? According to our September survey, nine in 10 shoppers believe prices will stay high, or go up even more. Here's the breakdown from our September survey.
So is this only about inflation, or does it suggest a permanent price correction? In the "New Shopper Truths" report WSL published is 2021, 71% of shoppers said they believe it is important to treat employees fairly and provide equal opportunities for all. Does our research therefore conclude that shoppers now accept higher prices on bananas, eggs, milk and detergents as a cost they are willing to pay for fair wages?
Some Give Up More Than Others For Higher Prices
In September, 43% of all shoppers were having to cut back on spending just to pay for the basics like groceries, housing and utility bills. That's up 10 percentage points since March, six months earlier. Every category we measured had been affected by more shoppers cutting back since March.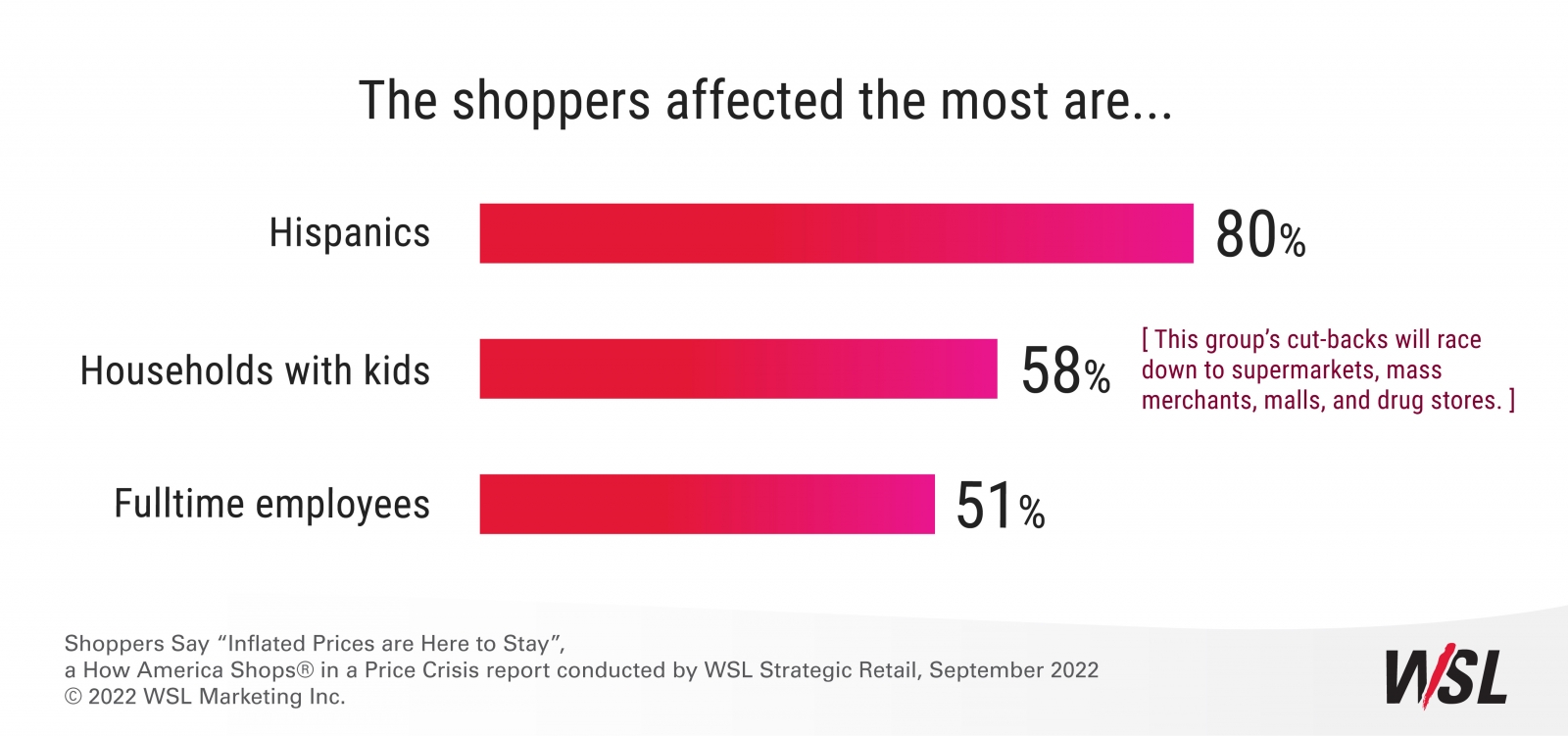 Struggling Shoppers are Creating Retail Winners and Losers
The upshot for retailers is that 64% of these struggling shoppers are changing where they shop as they search for lower prices, and these shifts will have long-term implications.
For example: Our shopper survey shows the big retail winners will be Walmart, Aldi and dollar stores, where prices are lower and temptation to overspend can be managed. Big supermarkets (like Kroger), Target, drug stores and specialty beauty chains can expect to lose traffic to these lower-priced retailers.
Based on our findings, we offer these shopper-suggested tips for retailers and brands that want to maintain relevance and loyalty:
Hit the mark with well-displayed sales. Two in five shoppers told us they will stock up if their favorite brands are on sale. However, they are less willing to make special trips in search of such sales, so advertise strategically, and make it count.
Spell out how you meet "new truths." Nearly 56% of all shoppers said they prefer retailers that provide humane working conditions and shared corporate profits, according to our "New Shopper Truths" report. Retailers that have improved compensation should get creative about making their benefits evident in their advertising, promotions and in-store employee recruitment signs.
But fairness extends to price. This one's tricky. Half of all shoppers are more loyal to retailers that price products so all people can afford them. Retailers and brands have an opportunity to work closely and find ways to manage costs – and then let shoppers know about how they are thinking about their budgets.
Are shoppers expressing fatalism or acceptance that all things now cost more? Most shoppers appear to accept higher prices as the next "new normal."
If this is a "Big Price Correction," then the winning retailers and brands will be those that get the next steps right.
Interested in what else shoppers told us about rising prices and the retailers they are choosing to shop now? Subscribers can download our How America Shops® report, "Shoppers Say: Inflated Prices are Here to Stay" report here. Nonsubscribers who are curious about what a WSL membership includes can request information here.