Among the reinvented retail formats we have seen that meet post-pandemic shopper expectations, few resonate as deeply as the efforts by some retailers and brands to create authentic, human experiences. What does this mean? From our recent Future Shop® podcast, WSL leaders explain what makes a "human store," with boots-on-the-ground, Retail Safari® examples. 
Your Store is for Humans. But How Human Is Your Store?
Take the friendly in-store greeter that retailers introduced years ago. While the greeter is a person, how personally relevant to the shopper is a cheery welcome if the greeter can't tell shoppers where to find the toothpaste aisle, or gloves?
The "human store" today must embody both kind, human touches and solutions to frustrations shoppers often encounter in stores. The goal is to make shopping easier and faster when we want to make a quick trip, and interesting when we want to slow down. It is human – physically, digitally and "phygitally."
In our recent Future Shop® podcast, "Retail Innovation: What's Working, and Not," WSL CEO Wendy Liebmann and President Candace Corlett discuss what makes a human store today, and why those embracing the total human experiences are making a buzz.
Oh the Humanity: Nordstrom, Camp, Hy-Vee, Victoria's Secret
We first heard the term "human store" from Dawn Clark, when she was senior vice president of store design at Nordstrom (now she is with Amazon). Nordstrom had been designing emotional touchpoints into its stores since the chain began, but it recognized that what makes a human store is an evolution.
The principles of the next human store include lots of natural light from floor-to-ceiling windows, displays placed so they do not block incoming natural light, air that is clean and merchandise that can be accessed without squeezing down an aisle. Add these elements to Nordstrom's legendary attention to customer service – even the security guards/greeters at the door can direct shoppers to locate merchandise in the store. It's the epitome of the human touch.
Our scouts have found more examples of the human store:

The innovative children's retailer Camp is quintessentially human because it taps into the inborn trait of curiosity. Rather than organize its stores by gender – the common practice – it lays out its stores by themes, such as toys for kids who like to build things or for kids who love outer space. Camp then extends its toy categories to activities, including standup comedy, yoga, guitar and an in-store slide. Through its child-minded approach, Camp reinvents the toy store experience – thrilling, interactive and filled with surprises.


Grocery chain Hy-Vee at its Grimes, Iowa, location serves emotional and practical shopper needs. Hy-Vee has added natural light from the front windows, it promotes healthy choices along with traditional favorites, offers an expanded food court, and it showcases digital options for those happy to use a self-scanner as they shop or place meal orders from a kiosk. Co-branding brings the Johnson Fitness & Wellness equipment brand into store, and ae DSW shoe boutique has added a digital shopping wall featuring its best-sellers. By incorporating unexpected categories and making them available with just a few clicks, Hy-Vee gives its shoppers easy access to more than groceries and offers more reasons for them to return.


Victoria's Secret has ushered humanity into its stores by literally reflecting it. Images of "angels" have been replaced by today's image of sexy women who are curvy, plus-sized, multi-racial, tattooed and more. In other words, models who look like everyday women. Cozy clothing has won a prominent place among the displays, answering to the human desire to lounge in snuggly leggings rather than in sexy thongs. With its transformation, Victoria's Secret appears to (finally) recognize that feeling sexy is not a staged role; it's part of being human.
The Human Store is Waiting Within Your Footprint
Look, we understand that building bottom-up human stores can take time and be expensive, but existing formats can be infused with meaningful humanity. From natural light to blended technology, incremental investments can add kindness to the shopping experience, and kindness isn't much for shoppers to expect. Know this: once they know where to find it, that is where they will return.
And also know this: The human store does not rely solely on people. Today, it also requires the smart use of technology and machines, with good people there to troubleshoot it.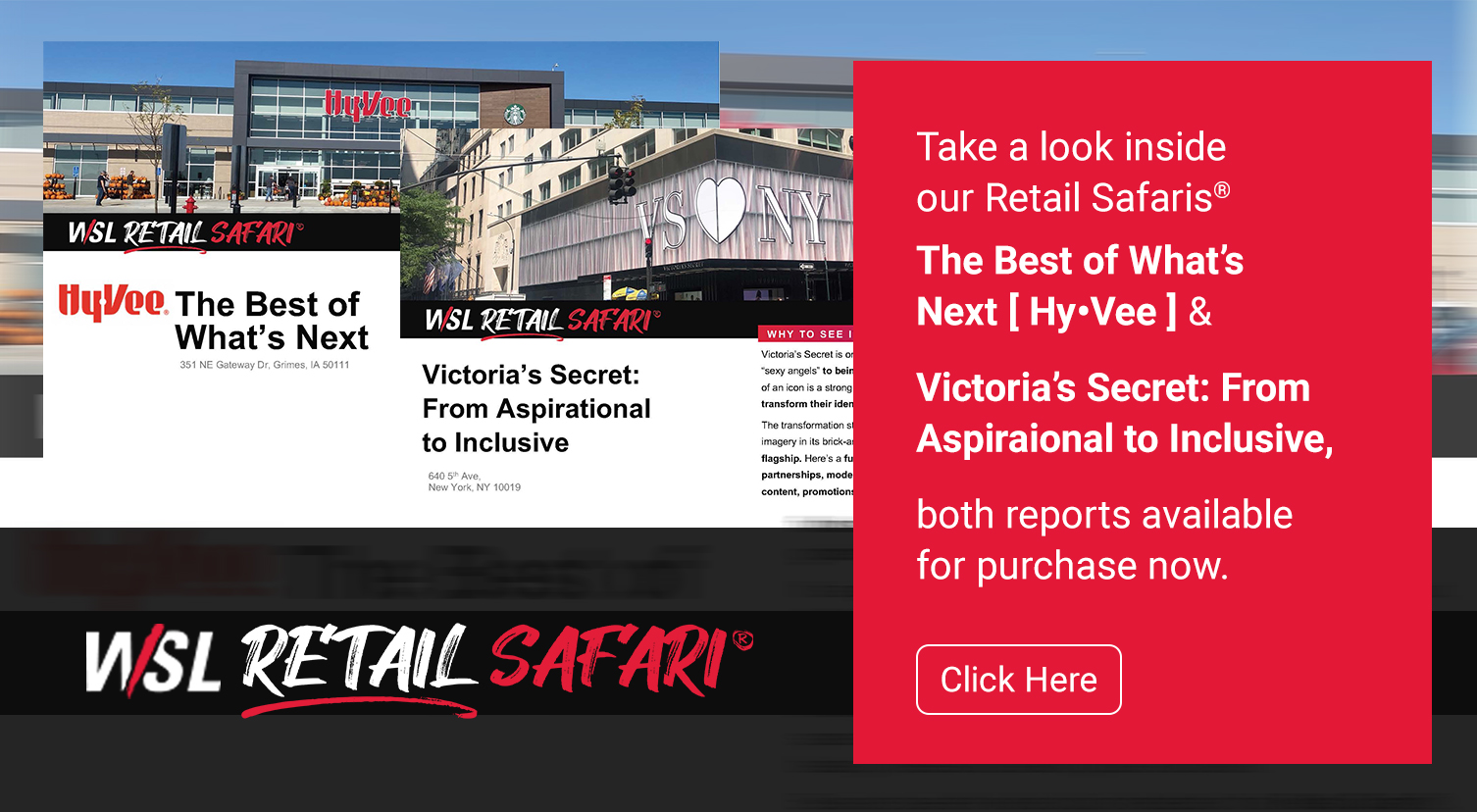 WSL Strategic Retail scouts are always on the prowl for innovations that result in more profitable retail and brand decisions. To learn more from our experts, including our latest Retail Safaris®, visit us here.