Men are venturing into the beauty category at a pace that could turn an unprepared brand's hair gray. Yet while interested in the category, many men don't know how to enter it. Our How America Shops® survey revealed three steps for getting them there – but don't wait or you'll be a runner-up.
Real men get beauty treatments. So which real brands are providing them?
Men are venturing into the beauty categories, trying new products in skincare, haircare and cosmetics and expanding their pursuit of wellness with mindfulness, nutrition and yoga. Yet in many cases, men need help to know what to look for, which presents the opportunity for brands and retailers to step up to the plate.
The upside potential for brands, and retailers, is substantial. According to our recent How America Shops® report, The Big Business of WELL: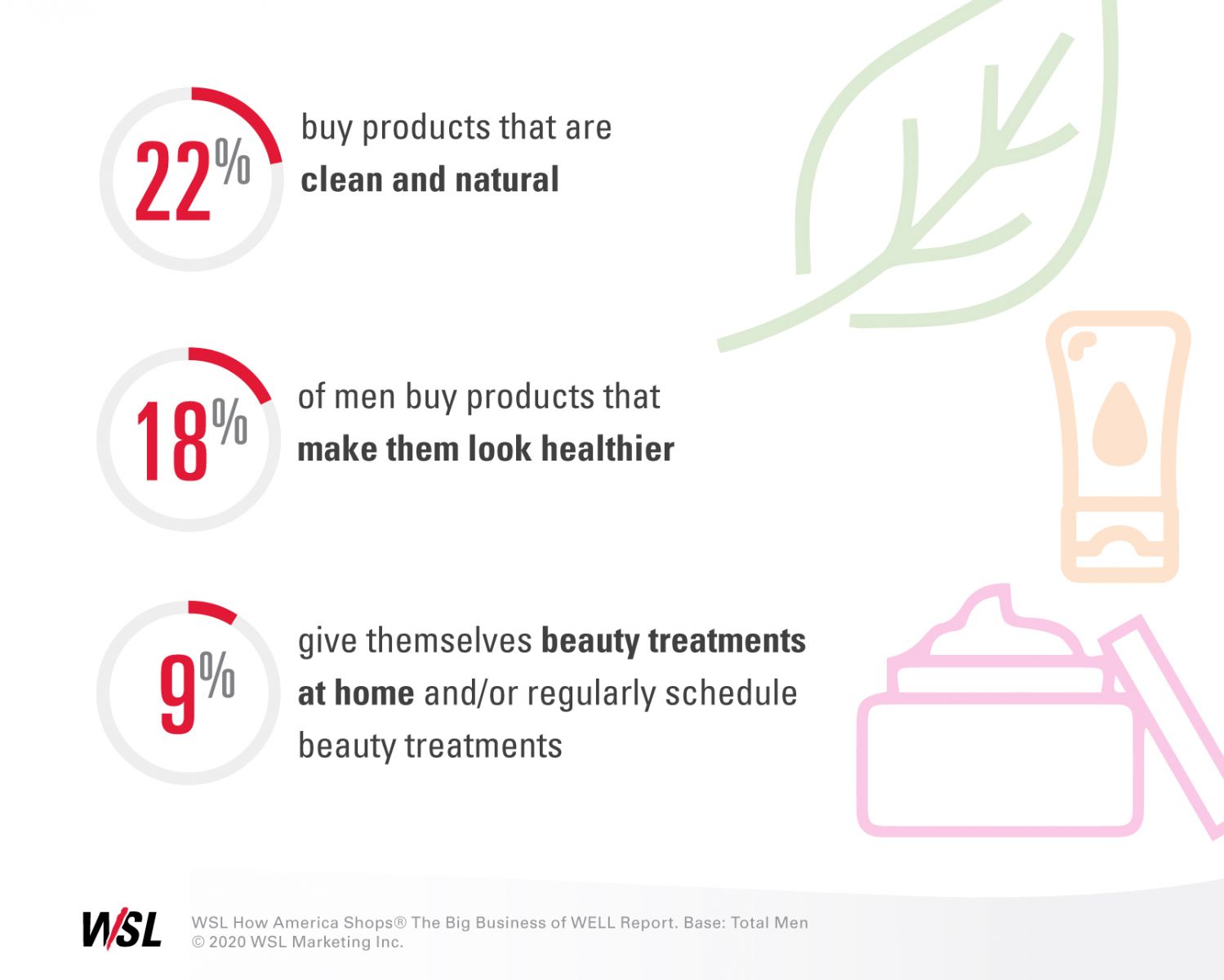 These may look like small percentages, but they translate to 30 – 40 million men ready to be beauty customers today. It will be up to brands and retailers to help them explore with confidence.
Men Are in the Beauty Spaces. Are You There for Them?
Smart brands are capturing the early adopters of men's beauty now and grooming them for future product launches. In doing so, brands should also become the authority, to reassure the next wave of male beauty shoppers.
Here we present men's beauty in mass, prestige, brick retail and pure-play online.
Dove: The Dove+Men line includes cleansers, moisturizers and other skincare items that support what it describes as "a new definition of strength: One with care at its center," because care makes a man stronger. Dove's dedicated website includes product guides that can be broken down by need (e.g.: sensitive skin) and a pledge option to support paid men's paternity leave.
Cover Girl: The traditional women's (and girl's) cosmetics brand made national headlines in 2016 when it hired its first Coverboy, social influencer James Charles, to promote its cosmetics and share tips for makeup art for men.
Chanel Men's Makeup: On the high end, Chanel has created Boy de Chanel men's makeup products, which aim to be functional and easy. The assortment is broken into three categories – face, brows and lips – and includes tutorials (men may also test products in the store). The message: Beauty knows no gender.
Goop Men: Gwyneth Paltrow has extended her Goop holistic beauty and wellness brand to men, with nearly 150 products in hair, face and body (including vitamin supplements) as well as the G. Label apparel line. Goop informs its male and gender-neutral customers through a dedicated website, the Goopfellas podcast and a newsletter. Nearly a quarter of Goop's 2.5. monthly unique visitors are men, Glossy magazine reports.
Target: Target is offering more than 600 products specifically for men that include legacy brands such as Dove and Old Spice as well as emerging labels like Beardbrand, Rebels Refinery and in-house brand Goodfellow & Co. All are cross-merchandised within categories men regularly shop, including men's apparel.
Duke Cannon Supply Co. This maker of bourbon soap, solid cologne and hand repair balm uses irreverent "man's man" humor to appeal to curious consumers. The brand understands the need for practicality – its products are helpfully described as perfect for leather cases, gym bags or desk drawers. Its $49 U.S. Military Soap Set, an alternative to "clown soap gift sets," was sold out in mid-January.
Hawthorne: This direct-to-consumer brand relies on signature blends to provide tailored beauty and grooming. It uses a 21-question quiz and algorithm that gauges chemistry, taste and lifestyle to build a regime of cologne, body and hair products at reasonable price points (ex: $144 for six products on subscription). Hawthorne also is available through subscription.
These brands are beefing up the competition, but they're also doing brands that have yet to enter the men's beauty and wellness category a favor because they are raising awareness. And that translates to opportunity.

The 5 O'clock Shadow Knows: 3 Steps for Reaching Men
Simply put, appealing to men just requires acknowledging the way they shop – with purpose and the economy of time. Our three tips:
Recognize the upside of untraditional. By targeting men, brands and retailers have an opportunity to expand categories that have been stereotyped as "female." The percentage of men venturing into the beauty and wellness categories now is small (if you think 30 to 40 million prospective shoppers is small!), so it's up to brands to help it grow. The right brand strategy will be category-specific.
Create special spaces. Gender may be more fluid today, but it is important to carve out a comfortable space – both physical or digital – that speaks to the male mindset. It should transition naturally from other departments and, when it makes sense, exist within traditional men's categories, such as apparel, so shoppers don't miss the goods. The universal retail strategy is to create the space; be visible and place the product where men won't miss it!
Information sells; if it's simple. These categories are new to many men, and they thirst for guidance. Brands and retailers should sell their product benefits and be clear about how and why to use them. Efficiency is key, and men will respond to focused assortments with clear, easy choices and plain-speak explanations.
Lastly, men's beauty and wellness is an emerging trend that is about to go mainstream and therefore it is a priority for a growing number of men – particularly young men who are just entering the age when grooming is necessary. Brands should give them the star treatment.
To learn more WSL tips, and how some retailers are reaching men, search for insights on our blog.