In our latest How America Shops® survey, many gift givers said their budgets for this year's December holidays are smaller than last year's. So they are looking for better-than-good deals. Our latest research factors in the culprits behind shrinking holiday budgets, and shares how retailers can help consumers give, without giving up too much.
If Gifts are Discretionary, then the Holidays are In Trouble
Retailers and brands, prepare yourself for a new form of shrinkflation – deflating December holiday budgets.
Our How America Shops® holiday research concludes that an alarming chunk of consumers report they have less discretionary income heading into the holidays this year than in 2022. When we asked shoppers to describe how much discretionary income their households have at the end of every month, compared with a year ago, their responses did not surprise us:

Rent, Data and College Loans are to Blame
Eight in 10 respondents told us they are under monthly financial pressure. Here are the top 10 monthly bills that are straining household budgets and causing that pressure.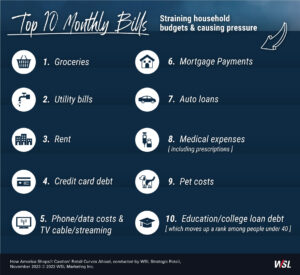 No wonder half of gift-givers across demographics plan to cut back on December holiday spending.
So Let The Sales Begin… Oh, They Have!
Black Friday is so 2021. This year, like last year, the December holiday kickoff sales started in October, thanks to Amazon's Prime Big Deal Days event, which triggered competitive, monthlong promotions by major retailers. Many of those markdowns continue.
The 86% who are changing their holiday shopping this year said they will look even harder for good deals or buy fewer gifts.
Here are four ways retailers and brands can ensure they remain on shopper gift lists:
Be generous on high-priced gifts. Retailers can strategically display "% off" signs on highly sought premium products and labels that aren't often marked down. Shoppers will perceive even small discounts, due to their trust in the brands, as good deals.
Promise surprise benefits. Shoppers will likely respond to pop-up perks, such as a window of time for free shipping of online gifts and easy returns for gifts that miss. Gift cards are welcome, and some retailers are offering gift cards with other purchases.
Promise the lowest price. Retailers and brands can emphasize price cuts at the shelf by comparing them to competitor prices. If customers find a lower price somewhere else, retailers or brands can offer to match it. (This limits discounts only to those shoppers who request them.)
Promote gift ideas by recipient. While most shoppers will buy for a spouse and children, few plan to purchase gifts for coworkers or service providers. Retailers and brands can apply special emphasis to affordable, practical gift suggestions – think food staples with broad appeal, personal care, fragrance, baby and pet gifts.
Stay Informed on How Your Customers are Adapting to Price Pressures
WSL has been regularly surveying shoppers about the effects of the economy and rising prices since inflation began in 2020. To see our other How America Shops® reports on struggling shoppers, visit our Shopper Research page. If you're not a client and are interested in what a partnership with WSL includes, visit our Get Started page.