Yes, price is important to consumers today, but if shoppers don't find a store that is easy to shop, they might not go in. What defines easy shopping in the store, however, depends on the age of the shopper. For our latest How America Shops® research, we asked consumers what features make shopping easier, and then categorized the results with an age filter.
Retailers are Learning the Price for Convenience Is High
Stores are jockeying for shoppers who are changing chains and brands in search of lower prices, but our How America Shops® research shows that convenient, easy shopping remains important.
There is, however, one big variable, and that's age, according to our latest consumer survey. When it comes to delivering easy shopping in the store, retailers and brands are betwixt and between generational preferences, and sometimes it is not clear which generation wants what. Boomers want human cashiers, as do some Millennials; Gen Zers seek self-checkout and mobile payments, but fewer Boomers do.
Equal shares of each group, meanwhile, value stores that open early and close late.
Online Retail is Essential, But the Store is Still King
Indeed, 63% of all shoppers we interviewed for our August report, "Paradox of the New Shopping World," choose to make their regular stock-up and quick trips in the store.
Once we unpacked the demographics behind these numbers, we found some noteworthy trends:
Millennials (not Gen Z) are most likely to shop primarily online for stock-up and quick trips – close to 30%, vs. the 19% for the total sample.
Boomers, not unexpectedly, prefer brick stores for both stock-up and quick trips – three-fourths, vs. two-thirds of the total consumers.
Now hold these trends in context as we walk through the experiential factors that shoppers say are most important for making their in-store trips easier.
What Makes Shopping Trip Easy? It Changes by Generation, Sometimes
Here are the in-store features that most represent convenience among different age groups.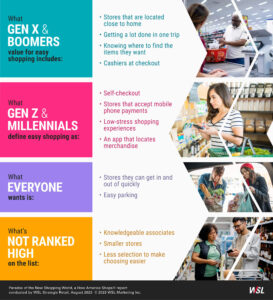 What Gen X and Boomers value for easy shopping includes:
Stores that are located close to home: approximately six in 10 Gen X and Boomers seek this, while only about four in 10 younger consumers do.
Getting a lot done in one trip: ranks high among half or more of Gen X and Boomers, vs. 36% of young consumers.
Knowing where to find the items they want: important for half of Gen X and Boomers, compared with 34% of younger consumers.
Cashiers at checkout: almost one-third of Gen X and Boomers, compared with up to one-fifth of younger shoppers, prefer cashiers.
What Gen Z and Millennials define easy shopping as:
Self- checkout: more Gen Z – almost half – find this important, compared with nearly one-third of all other shoppers. Still, one-third is still a sizable demand for self-checkout.
Stores that accept mobile phone payments: here, there's a distinct difference, with close to 20% of Gen Z and Millennials finding this important, vs. less than 12% of Gen X and Boomers.
Low-stress shopping experiences: up to one-quarter of Gen Z and Millennials (who we know report stress and anxiety as obstacles to their health) seek this in a trip, compared with 13% to 18% of older consumers.
An app that locates merchandise: up to 17% of younger consumers, vs. about 7% of all others.
What everyone wants is:
Stores they can get in and out of quickly
Easy parking: 36% (and half of Boomers) factor this high into choice.
What's not ranked high on the list:
Knowledgeable associates who can direct shoppers to find what they need. Have shoppers given up on human service as digital moves in?
Smaller stores. Think niche formats, not to be confused with smaller footprints where shoppers can still get a lot of shopping done – such as Aldi, Lidl and dollar stores.
Less selection to make choosing easier. This preference is at the bottom of the list, although Costco consistently ranks high for easy shopping, yet carries fewer brands and items than supermarkets.
Convenience is the Price of Competition
All of these findings point to one unavoidable truth: Price may be the most important consumer "need" today, but if shoppers do not find a store that is an easy shopping experience, they're less likely to go in even to compare prices.
WSL subscribers can read the full details of our report, "Paradox of the New Shopping World," including how retailers ranked across more than a dozen essential convenient factors, here. Not a subscriber? You can access our shopper, retail trends and research insights by clicking our "subscriber" link.