WSL has long advised that to know the shopper, you have to follow the shopper. And today, many of those shoppers are following someone in very small shoes. Gen Alpha, the oldest of whom are just approaching 14, have outsized influence as consumers. These brands and retailers are responding, with formats just for the Gen A.
Retailers Are Already Sensing The Power of Gen A
The young members of Generation Alpha, the oldest of whom are just approaching 14, have influence beyond their years because they have the digital tools to make them aware of consumerism at such early years. They are the third generation of digital natives, making them the children of the first digital natives (Millennials)[1].
As a result, many have been raised with unprecedented consumer autonomy and power, helpfully stoked by online consumer content such as "unboxing" and "shopping haul" videos.
This power is now taking form in some innovative retail formats.
And none too soon. Gen Alpha – those born from 2010 to 2024 – is expected to make up 13% of the U.S. population this year, or nearly 50 million people. And they're still coming.
These Retailers and Brands Get an A+
Still, while digitally savvy, Gen A are influenced by what they see in stores, as well. Retailers and brands evidently get this. They understand the power of firsts; that by taking root in these young minds early, there's a better chance they'll remain there.
Here are some examples we've seen while following the shoppers influenced by Gen Alpha.
Happy Nation, by Victoria's Secret.
The undergarment chain in April 2022 launched Happy Nation, a fully-digital brand designed exclusively for 8- to 13-year-old girls. The line, which ranges from underwear to body care, is inclusive and supportive of tweens, which is a smart call. This age group is undergoing life-altering changes that can be scary and exciting. Happy Nation, in supporting these changes, "fosters a judgement-free community" and represents a brand that tweens can call their own, Victoria's Secret stated at launch.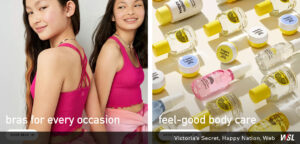 The dollar-near stores.
The emergence of hyper-trendy value stores is turning a lot of young heads. Five Below and Popshelf (the latter by Dollar General) each incorporate youthful, upbeat language and striking signage into their low-priced models (a sign in Five Below declared it the "Coolest Store Ever"). Yet these stores smartly recognize who butters their bread: Both make it easy for parents to have fun, productive shopping trips as well, by carrying items they need such as cosmetics and home goods. At Five Below, rotating displays of trendy and seasonal items, called "New & Now," ensures parents and kids discover something different with each visit.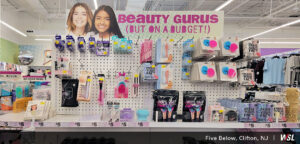 House of Play, by Foot Locker.
This physical concept store is designed specifically for kids, with interactive playscapes and activity areas, but it also offers a full-family experience. For example, recreation spaces are tailored to the age groups of each shopping area – kids, little kids, toddlers and babies. So visitors can find padded climbing structures and study tables. Foot Locker, which introduced the concept in late 2021, said it plans to add more locations to replace mall-based stores. And in late 2022, it partnered with the virtual game Roblox to introduce a House of Play metaverse experience for kids, which is based on the physical store.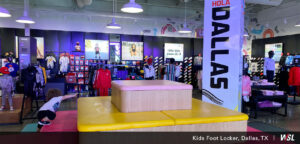 ShimmerVille, by Claire's.
The accessories chain also has launched a virtual world on the gaming platform Roblox, geared to target the oldest members of Gen A. On ShimmerVille, members can participate in age-friendly activities and dress up their avatars with jewelry and other accessories that can be bought at Claire's physical stores. The retailer's investment in its "phygital" future aligns with how Gen A (and Gen Z) combine entertainment with function, essentially making shopping and play interchangeable.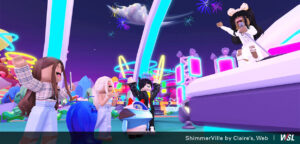 CAMP.
This next-generation toy store, launched in Manhattan, is built for kids but designed to entertain the whole family with immersive experiences such as standup comedy, yoga, Paw Patrol and now Disney Encanto. Unlike traditional retailers, CAMP organizes its product assortment not by gender, but by interest. For example, displays might be built for kids who enjoy build things or for kids who love outer space. This child-minded approach is an important distinction among Gen A, who experts say do not like to be grouped as girls or boys.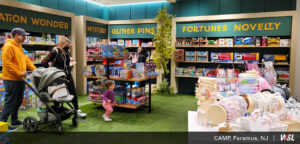 The big coffee chains.
Blended coffee drinks appear to be displacing soft-serve ice cream among many kids, as evidenced by the crowds at Starbucks and Dunkin'. At one Dunkin' near an elementary school in New Jersey, our WSL retail scout spotted groups of children socializing after class. We've seen similar activity at Starbuck's, which is the after school "hang-out" for Gen A. A big selling point: customization. At these chains, kids can concoct drinks that make them feel grown up[2]. Starbucks and Dunkin' might not have introduced formats to appeal to Gen A, but they have hit the mark with the product offers.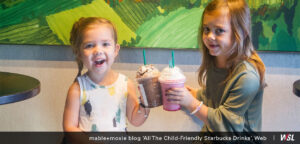 Digital brands have this age group in their sights, too.
In addition to metaverse options by Claire's and House of Play, other brands are tapping into the Alpha opportunity. For example, while beauty brand Florence by Mills is geared for anyone younger than 24, its eco-conscious, cruelty-free and vegan product line likely speaks to members of Gen A. And Amazon ranks among the most recognizable brand among kids ages 7 to 14, likely because they watched its smiling boxes arrive at their doorsteps regularly during the pandemic. Indeed, 84% of kids have heard of Amazon, and 72% like it as a company, Wunderman Thompson reports.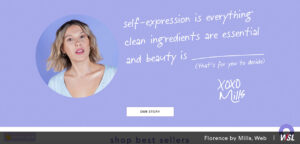 Are You Innovating for The Next Generation of Retail?
Small children may not be shoppers, but they are big-time consumers. Based on their influence, they might as well be filling the carts their parents are pushing, for everything from foods and beverages to personal care, beauty and (of course) toys! The above retailers and brands get it, and they're likely going to get more share of this generation's digital wallets when they become shoppers themselves.
Retailers and brands that haven't given these kids "space" might be at a disadvantage. Know what matters to them.
WSL Strategic Retail experts are out in the field continually, researching new ways retailers and brands remain relevant to shoppers of all ages. If you'd like us to customize our research to your needs, you can contact us here.
See related Retail Safari® on Gen Alpha: "Clicks to Bricks: How to Attract Young, Digital-Savvy Shoppers to the Store."