Retailers, are you talking to your customers about sexual health, menopause and menstruation? More women expect to find products to manage the symptoms of these conditions in the store, thanks to online brands dedicated to formerly "taboo" women's health topics. The trick for retailers and brands is learning where to place and how to market these categories in the store.
Women's 'Niche' Health Is Stepping Out of Its Shell
One-third or more of women are seeking information to be better informed and find solutions for symptoms related to menstruation, menopause, birth control and thinning hair. Where in retail stores or on retail websites can they find them?
Access to these "niche" in women's wellness is expanding its reach, driven by direct-to-consumer brands willing to showcase formerly "embarrassing" topics our mothers or grandmothers never spoke of.
Ailing for Answers: WELL Conditions Women Ask About Most
We asked adult women which of the following niche wellness categories they've recently sought information. Following is what we learned. We expect these figures to climb as more direct-to-consumer brands and sites address these conditions head-on and make solutions available.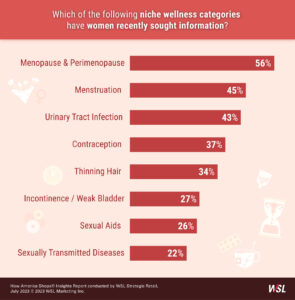 So, Where Should Women Find Their Total WELLness Answers?
Retailers and brands have an exceptional opportunity right in front of them, every day: Only 36% of women say they are in excellent or very good health – that's compared with half of all men. Considering that women still make up the majority of shoppers, those 14 percentage points can translate to considerable sales.
Shoppers have direct-to-consumer brands to thank for their niche-care options. Ventures such as Stripes, a menopausal beauty company founded by actor Naomi Watts; Perelel, a prenatal and postnatal vitamin line that is fast outpacing that of physical stores; and tia, a one-stop total women's health clinic that connects patients online in chat groups.
Some retailers and brands are now trying to catch up to these D2C options, our Retail Safari® scouts have found. But they all face a similar challenge (ironically, the same one women looking for these goods face), which is: How do we merchandise and where do we place these new categories in the store? Do all menopausal products get one space, or should they be categorized by the symptoms, such as thinning hair and hot flashes?
Our Retail Safari® Solutions for Better Women's WELLness, In Store
Our Retail Safari® scouts searched for the most innovative practices by brands, wellness centers and retailers that help women conveniently take control of their total-body wellness. We feature their findings in our latest Retail Safari® report, "Women's Health: How Retail Innovators are Helping Women Take Control."
Here are a few of those takeaways for physical retailers.
Customize by wellness benefits. A wellness category such as sexual health or menopause can require many products, from medications to skin care. The brand Primark, for example, makes high-tech clothing exclusively to cool during menopause at affordable prices. A retailer can analyze its shopper data to gauge category need, and then test endcaps or special displays to further inform the best approach to merchandising a category.
Be an authority. D2C brands assume the role of mentor first; then merchant. Their online educational tools include livestreams (Stripes), specialists and peer chats (tia). These efforts matter most because they build trust among women, which may be a challenge for retailers in the bustling store environment.
Rethink how you merchandise. Walmart, Target and Ulta are following the leads of online brands by adding prominent displays and dedicated spaces that "own" health conditions, such as menopause and menstruation, that they might not have earlier addressed.
Mix physical and digital, physically and mentally. Retailers and brands would do well by building digital communities that integrate into their physical store experiences and offerings. We found inspiration at the women's health centers tia and Kindbody, both of which blend in-person and virtual services that include acupuncture, mental health consulting, physical therapy and more.

Now Is the Time to Get Better at Women's WELLness
Women represent half of the entire population, and they are becoming less guarded and apologetic about the conditions that affect them – in their minds there are no more "taboos". Retailers and brands need to meet them where they are now – looking for information and products that offer relief.
Our new Retail Safari® provides examples of the innovators helping women take control of their total health, with easy access and less stress through virtual check-ups, support groups and affordable solutions. WSL subscribers can access it, here. Not a subscriber or client? Learn how to become one.