Consumers are finding more categories are a challenge to purchase in the store, and that's causing them to go online to buy what they need – easily, with discretion and sometimes at a better price. Based on our proprietary consumer insights, these are the categories retailers and brands need to make easier to shop, now.
Online Shopping's Power Is Expanding
Online startups have for some time been creating new sales by offering solutions for sexual health (think erectile dysfunction), menopause relief and behavioral modification. Now, thanks to a proliferation of these information-rich online options ­– often accompanied by professional guidance from pharmacists or physicians in "sensitive" categories – consumers are bolder about researching and buying products for needs that may be uncomfortable to check out in a store.
Add the convenience of product delivery right to the door, and more consumers are exploring these options.
That curiosity might in turn be inspiring them to explore other categories that were traditionally dominated by brick stores, but have lately become more difficult to buy. Read on to learn why.
Online Retail Has Worked Around Its Barriers. Can Stores?
According to our How America Shops® report, "Paradox of the New Shopping World," 81% of consumers shop online, and 37% shop sites that are direct-to-consumer.
In a twist, the pain points that once made certain categories hard to sell online have been eased. Meanwhile, the ease of shopping in the store has been complicated by issues such as space limitations, uncertainty about where to place new categories, putting some medications under lock and key, and requiring customers to wait to see the pharmacist.
Those "pain points" might be causing shoppers to explore more categories online. According to our research: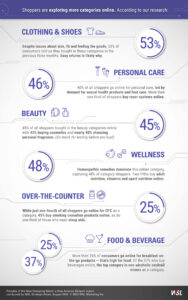 Key Factors Driving Online Shopping
While discretion is an important motivator for seeking some of these categories online, it is not the only driver, nor the most important. In many categories, such as foot care, online sites offer more variety, from earth-friendly packaging to the hydrating foot masks on the startup site FEETS.
In sexual health, a discrete online pharmacist or health care professional is available to counsel patients and guide the right purchase. Online brands are also able to cater to very specific, but important, demographics – RedDrop, a feminine hygiene brand for 'tween girls, comes to mind.
In other categories, online options have simply become easier to buy. Fragrance and razors are in locked cabinets in some stores, requiring shoppers to wait for an employee with the key – a waste of time for those who want a quick in and out.
And lastly, when it comes to fast-emerging (read: hot) categories, many retailers struggle with where to planogram new categories like menopause and HIMS and HERS health products. The explosion of non-alcoholic beverages and mixers is another category that is wrestling for space with traditional alcohol brands.
(To see other DTC brands stepping in to satisfy unmet demands, go to our Retail Safari® to learn what Perelel and Stripes holistic menopause solutions are doing.)
New Categories Drive Traffic Retailers Need
As the store is reconfigured to allocate space for online pick-up, fresh food for on-the-go meals and in-store boutiques such Ulta Beauty in Target, there is less room to create permanent space for new categories.
Based on our consumer-guided insights, we've spotted two key weak spots:
Curated selections with authority. More consumers are seeking online sites for one-stop information, advice and selection. Retailers need to re-think how they can service consumers with information to discretely choose the right product for relief. Standing in the aisle of your local drug store is not the answer, and brands need to think about discrete packaging to avoid embarrassment at check out.
Some categories lack a place. Retailers and brands can actually generate and showcase their own new concepts in women's and men's health. Imagine semi-private monitors that link to sites where shoppers can make informed purchases with confidence.
Remember, shopping is driven by need, and DTC brands are offering solutions for needs that were always there. We have shown in all our studies that most shoppers prefer to go to the store, but not when it's too hard. Remember what inspires your shoppers as people, and they'll remember you.
WSL's latest How America Shops® research follows the shopper online, in the store and wherever else they may be heading. To learn what opportunities this presents for your store or brand, visit our consulting services page.