Private label goods, or store brands, have become so sophisticated in packaging and quality that shoppers might not even recognize they're store-exclusive. As our How America Shop® research into rising prices continues, we find up to 45% of shoppers are now buying more of these store labels. Are national brands taking this brand "muddying" seriously enough?
88% of Shoppers Think Prices Won't Drop. So They're Going Private.
As part of our ongoing How America Shops® market research into consumer behavior, we revisited how rising prices are affecting spending decisions, and learned that shoppers continue to find ways to game the system.
Notably, more consumers – 30% to 45% more – are now buying store brands, and in categories that used to be comfortably dominated by national labels.
We suspect that consumers are choosing many of these brands without even distinguishing them as "store brands." More than 75% of shoppers agree that the packaging, labeling and quality of store brands have become so advanced and competitive that the brands blend easily with the biggest national names. Retailers have created credibility around their brands, as in Costco's Kirkland, Whole Foods' 365, Kroger's Abound pet food and Comforts baby products, all of Trade Joe's, as well as Ulta and Sephora in beauty. The list goes on and on.
Add to this retail marketing strategy the store brand's typically lower prices, and these products actually stand out.
There's No Question: Store Brands Are Taking Over
Considering that 56% of consumers believe prices will climb even further, the appeal of high-quality, low-priced store brands is a no-brainer.
Based on our How America Shops® survey results, we worry that national brands might not be taking this competitive threat seriously enough. Here's why they should: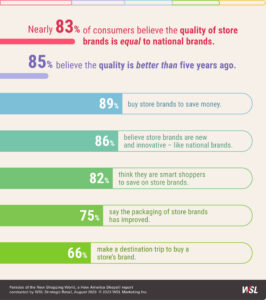 To ensure confidence in our findings, we checked to see how our numbers compare with those of the leading private label trade group, the Private Label Manufacturers Association (PLMA). The PLMA reports that in the first half of 2023, the sale of store brands rose by 8.2%. That compares with a gain of just 5.1% for national brands.
All Brands Have to Get Along. Here's How
Shoppers are in the mood to respond to price and national brands need to stop the stampede toward smartly marketed store brands. Retailers still rely on national brands for much of their sales – unless they all become Aldi or Trader Joe's.
Here are a few co-existing considerations, based on our shopper insights.
Determine brand transparency. Does the "muddying" of brands work in retail's favor? National brands need to find the platforms on which to deliver their brand personalities.
Focus on trust. The shopper's willingness to embrace store brands suggests a distrust in large corporations – 67% of consumers told us they trusted national brands in 2020, down from 75% in 2018. Price increases have shoppers' wondering if the added pennies or dollars are well-spent on a national name brand – so the brands need to tell the why!
Out-market retailers. Big brands can give shoppers what matters most in their respective categories by touting their superior quality, ingredients, convenient use – whatever makes the brand stand out.
Break Rules. National brand executives are smart and have taken notice of the power of store brands, but corporate rules tie their hands and prevent them from reacting. Sometimes, it makes sense to break some rules before the brand is undone.
The full findings of WSL's How America Shops® report, "Paradox of the New Shopping World," is online for clients and available for purchase. You can get started here.